At the heart of the F&A Next mission is connecting startups & scale-ups with dedicated food & agtech investors and innovative corporates. Underpinning all these connections is technological innovation. But how can innovation be fostered and maximized in the turbulent COVID 19 era we find ourselves in now? What tools are available to startups and scale-ups to secure their innovations and yet at the same time provide security to investors and corporates partners? The answer can be found in the IP assets and in particular patents.
Analysis of the patenting activity of companies in the plant-based meat/egg alternatives sector by Matthew Burton, Patent Attorney at NLO, shows that the market leading companies are highly active patent filers. The patent activity underpins the recent investor activity in this sector. Patents enable protection of key innovations, in a form that can be monetized as part of e.g. investment deals and license agreements. Developing a patent portfolio goes hand-in-hand with increasing market position and securing investments, which is essential for the players in the plant-based meat and egg sector to continue to grow in the challenging economic climate of the COVID-19 era.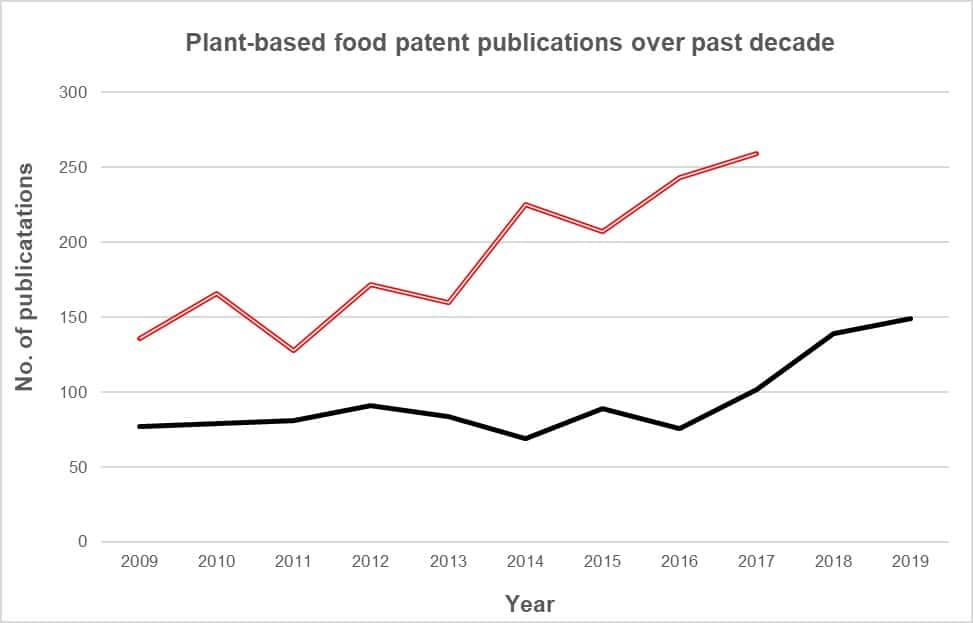 Market patent activity
Undoubtedly one of the fastest growing market sectors over the past five years in the Food&Agri space is the plant-based meat alternatives. Brands such as the "Rebel Whopper®" (Burger King) and the "Beyond Burger®" (Beyond Meat) have had global impact. At the same time, there has been a steady increase in the number of filed patent applications and granted patents over the past 10 years (Fig. 1) in the field of vegan alternatives to food products like minced beef, burgers and eggs.


Startups rocket to the top of patent filings
Impossible Foods is leading the pack of investor backed, patent savvy, startups in the race to develop plant-based meat alternatives. Despite the economic set-backs of the corona crisis, Impossible Foods recently managed to secure $500 million series F investment in March 2020, suggesting continued market confidence in plant based meat alternatives, and its potential to grow further.
Over 40% of patent applications filed in the plant-based sector can be traced to 4 companies all founded since 2009 (highlighted in green in above figure):
Impossible Foods – founded in 2011 – has an impressive patent portfolio of 100+ filed applications;
Mycotechnology Inc – founded in 2013 – has a growing portfolio of 40+ patent applications;
Gold and Green Foods OY – founded in 2014 – has a growing portfolio of 40+ applications;
Savage River / Beyond Meat – founded in 2009 – has a solid portfolio of 30+ applications
Marlow Foods (Quorn innovator – red in Fig. 2) – founded 1985 – has been relegated to 8th in the 'meat alternatives' patent filer ranking.


Cutting-edge technologies
Recently published patent applications provide insights into the latest developments and forthcoming products for plant-based meat alternative foods. Analyzing the technology space highlights not only the top filers but also the upcoming startups behind the new cutting edge technologies:
Meat-like colour: e.g.: EP3044320(B1) by Impossible Foods, published 19-02-2020 describes production of heme-containing polypeptides;
Textured proteins e.g. EP3609348(A1) by Gold&Green Foods OY, published 19-02-2020 describes a mixture of legume protein and cereal material having a meat-like texture]
Myco & plant protein foods e.g.: US2020060310(A1) by Mycotechnology Inc., published 27-02-2020 describes the production of a myceliated high protein food product.
Vegan meat e.g.: WO2020074858(A1) by The Meatless Farm LTD [founded 2016] describes a meat substitute which includes methyl cellulose, soya and inulin gel.
Egg replacers e.g.: WO2020041483(A1) by Clara Foods [founded 2015] describes modified microbial, functional proteins; and e.g: EP3416497(A1) by Just Inc [founded 2011], published 26-18-2018 describes highly functional mung bean protein isolates.
Clara Foods Inc and. Just Inc are examples of startups that use patents to claim their space in the crowded technology area of egg replacement. Keeping ahead of the competition by patenting key innovations is crucial to ensure market share is maintained, and thus return-on-investment for investors. It will be interesting to see how the patent space in the area of functional proteins as egg replacers develops in 2020.


Firm foundation for turbulent times
Clara Foods closed its Series B raise in April 2019, with its egg replacer protein being due to launch in 2020. Just Inc is also due for a product launch mid-2020. All eyes are now on how these and other companies in the plant-based food space, navigate the stormy waters ahead caused by the COVID-19 pandemic. One thing is certain, with the emphasis these companies place on developing their patent position, they are ensuring their key IP is protected.
Maintaining a strong IP position is essential to weather the increased competition and competitive business environment that is emerging as the COVID-19 pandemic progresses.


About the Author
Matthew Burton is a Dutch & European Patent Attorney at NLO in The Hague, The Netherlands. Matthew supports clients across the Food & Agri space, including startups, multinationals and VC's. You can contact him via burton@nlo.eu