Without diving too deep into the underlying technologies, any mycelium-based product is a combination of selected strain, its feedstock, the fermentation approach and conditions, and product-specific down-stream processes. For each, there are multiple considerations and parameters that can be selected or optimized, as well as the interplay between them — to impact key aspects like product taste, quality, cost, and scalability. Innovation in this space can stem from every choice made in each of these components. Take strain selection as an example. These vary widely in attributes ranging from growth rate to nutritional composition. Keeping in mind that strains which are new to the food industry will need to pass through regulatory approval before they can be sold as a product.
Strain selection is also directly linked to feedstock, a parameter critical for growth rate of the strain, the quality of the output as well as process costs. In addition, using industry-side streams as feedstock has clear advantages and is gaining popularity. Another example is the type of process. Fermentation can be performed via liquid (or submerged) or solid-state, which vary in terms of various aspects, e.g. operational costs, CAPEX, process control and scalability. Finally, the down-stream processes to lead to the chosen product is another key component that impacts sensory and quality outcomes, together with production scalability and costs.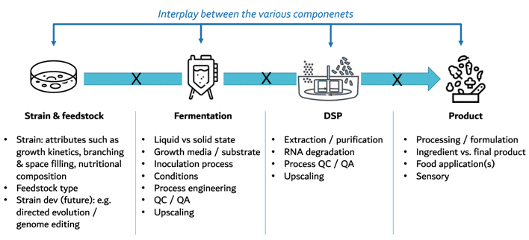 The innovation race: landscape, runners up, and what's next
The mycelium innovation space is booming, and if you got to read up to this point, we certainly hope you understand why. Many innovative players are out there — for a complete space review, we recommend the Fungi Database by FoodHack, which maps the key players. See a list of potential "runners up" is in the table below, comprising the companies most advanced in funding to date: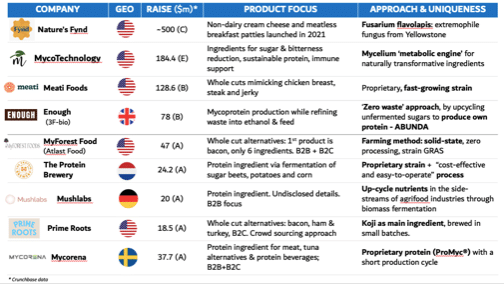 The wonderful, extremely diverse fungi Kingdom holds great opportunities for the FoodTech sector. Mycelium has re-emerged as a promising alternative protein source, with broad, untapped potential. Our point of view is that key innovation enablers include strain & feedstock diversity, process innovation, and functional ingredient applications. As the timing is no doubt right, mycelium can win over consumers with taste, nutritional, functional, scalable, and impact-related benefits.
About the author: Maya Schushan Orgad serves as CTO of PeakBridge and is leading its technological investing. Prior to joining PeakBridge, Maya was a VP at Bayer Trendlines Ag Innovation Fund, Trendlines Agrifood. Before that, Maya led entry strategy and expansion at Evogene, a leading, publicly traded biotech company involved in Agtech, in which she served as director of business development. Maya holds a PhD in computational biology from the Biochemistry & Molecular Biology Department at the Life Sciences Faculty of Tel Aviv University.