Pandemic: the curse
As with all other businesses, the pandemic has put limits on startup teams working together and using their (shared) facilities. But that is just a small inconvenience in comparison to the following set backs.
Edete (Israel) had signed an important contract with one of Australia's largest almond growers to put one of their pollen harvesting machines in place. But then Australia, the second largest almond producer in the world, went into a strict lock-down and Edete was denied entry into the country. Keren Mimran, co-founder of Edete, hopes they can start their Australian project in August this year when the almond trees begin to blossom again.
A large investment deal that microbial bioactives producer Evologic Technologies (Austria) was about to close in March last year, didn't materialize. A direct result of the pandemic that had just kicked in? Hard to say for sure. But investors did become more cautious about new investments at that time. In May last year, Evologic hit rock bottom. It was tough times.
"The offer of food surplus exploded, the demand for it plummeted!" ~ COGZ
COGZ (UK) seems to have taken the biggest blow. Their B2B marketplace for food processors to buy surplus and process grade produce directly from growers came to an abrupt stand still. Whereas the offer of food surplus exploded, the demand for it plummeted. Interested retailers postponed further partnership conversations. And similar to Evologic, investors withdrew funding already committed, allegedly saving up funds for their existing portfolio companies. With no more revenue and funding, the company had little other option than to lay off its staff and go into survival mode, co-founder Sean O'Keefe openly shared with us.
But when the going gets tough, the tough get going!
Pandemic: the blessing
If anything positive has come from Covid-19 it is that it has raised worldwide awareness of the threat of viruses and pests, including those that affect our animal stock and food system. Startups operating in this field need less time to explain and convince people of the value of their solutions.
This is clearly the case for Pebble Labs (USA), a biotechnology company focusing on agriculture and aquaculture solutions to disease and pest. As David Morgan, President and CEO of Pebble Labs points out "Everyone now understands the potentially massive impact of viruses and their variants. It has become easier for us to explain the value of our rapid-response solution to emerging pathogens that impact food security."
Jochem Bossenbroek, co-founder/CEO of personalized nutrition platform Verdify (Netherlands), shares a similar experience, though in a different field. "Covid-19 has not only raised awareness of (food) safety issues, but also significantly raised interest in healthy nutrition, particularly by food retailers and producers."
Pivots and product enhancements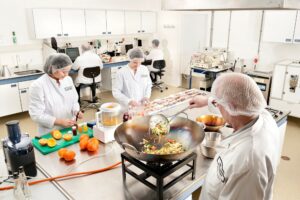 Any startup that manages to pull its business through a pandemic is a hero on its own merits. Creative, resilient startups always seem to find ways to go with the flow and make the best of any situation, as demonstrated by the following startups.
The seemingly less affected Pebble Labs successfully moved their research from lab to field testing. They conducted a series of field trials, with promising results as viruses were successfully being surprised. David says, "We are still refining our system. For instance, we are figuring out if we need one dose or two." Rings a bell, doesn't it?
Edete has taken its product development to Olympic levels. Keren explains, "We had a lot of extra time on our hands, which we spent on developing and building our third generation artificial pollination machine. At the same time, we started further developing our system so it can pollinate not only almonds, but also pistachios, apples, cherries, pears and plums."
"We realized the potential of our core technology to solve a more systematic challenge" ~ Evologic Technologies
Evologic decided to pivot. Wieland Reichelt, founder/CEO, said "We realized the potential of our core technology to solve a more systematic challenge – manufacturing of high quality filamentous fungi. In contrast to solid state fermentation our technology yields highly concentrated product free of contaminations. To valorize our technology we are now offering CDMO services for manufacturing and formulation while continuing to develop inhouse products (biostimulants and biopesticides)."
Sean O'Keefe of COGZ managed to make a complete turnaround, turning the pandemic into a brand new opportunity. He founded a new company that focuses on remote working, OpenTeam. With an undisclosed but substantial investment for this new company in his pocket, his future as an entrepreneur is looking bright again.
Scaling Up
Irrespective of the pandemic, or maybe even a result of it, some of the heroes have even been able to scale up their business in the past year.
Evologic's team grew from 10 to 20 people and the company successfully raised €2.5M funding last December. They built a 400 m2 production facility and increased their number of bioreactors from 8 to 40. Wieland: "Just recently we have completed a 5 tons manufacturing project for an encapsulated product and we expect to double our production capacity this year."
FUMI Ingredients (Netherlands), producer of animal-free food ingredients from micro-organisms, is also successfully scaling up their production capacity, from 10 liters in January 2020 to 10,000 this summer. Furthermore, they have set up a strategic partnership with a multinational brewing company. Fumi's co-founder Corjan van Berg expects that their first commercial factory will be operational in the first quarter of 2023 and will then be producing 2,000 tons per year. In the meantime they are moving on to bacteria and fungi. "We are open to pilot projects with microorganism producers," Corjan says.
"Next month we will launch our consumer platform!" ~ Verdify
Verdify too expanded its team, including a CTO and a CMO with a track record at Nestlé. But the best is yet to come. Jochem: "Next month we will launch our consumer platform!" At the end of this year, another investment round to support their further growth is expected to follow.
F&A Next as a springboard
The mission of F&A Next is to connect agrifoodtech startups to dedicated investors and leading corporates serving as a springboard to greater innovation and a better deal for all. Did pitching their businesses virtually at F&A Next help these startups progress further?
Well, at Fumi Ingredients over ten companies are currently testing their ingredients, including F&A Next participants. Wieland of Evologic noticed that investors they met in the past few months mentioned their pitch at F&A Next, showing that presenting at F&A Next may resonate well beyond the actual summit itself.
Verdify attracted a strategic advisor from a well-known corporate through F&A Next. "She has become a true ambassador, opened many doors for us and is soon to become part of our Advisory Board to be," said Jochem. They also came into contact with an investor who is now an informal advisor and potential investor in their upcoming investment round. Keren (Edete) too has built warm relations with several international venture capitalists through F&A Next.
"F&A Next is an absolutely fabulous platform for startups!"~ Pebble Labs
David (Pebble Labs) said the following, "F&A Next is an absolutely fabulous platform for startups. We are really gratefully to have had the opportunity to present our company at the summit. After the summit some interested investors approached us and we are still in contact. Since we are still at a very early-stage and years from commercializing our product, time will tell if these direct contacts will materialize. But even the exposure we got through F&A Next has been a reward in and of itself."
Startups that prevail in these difficult times, and even manage to grow, seem to embody a true hero's story. We wish them the best of luck with their further endeavors and look forward to the welcoming the 'Next Heroes in Food- & Agtech 2021'. Will you be one of them? Startups can apply till 14 April.
—
View the F&A Next 2021 Program and Speaker Lineup